Every year, nearly 10 billion dollars of advertising fees flow to outdoor advertising billboards, which also proves the importance of outdoor advertising. In recent years, more and more big brands have begun to pay attention to Outdoor Advertising Billboard Displays. There are only two important reasons for launching outdoor advertising: Pre-brand Promotion and Post-brand Maintenance.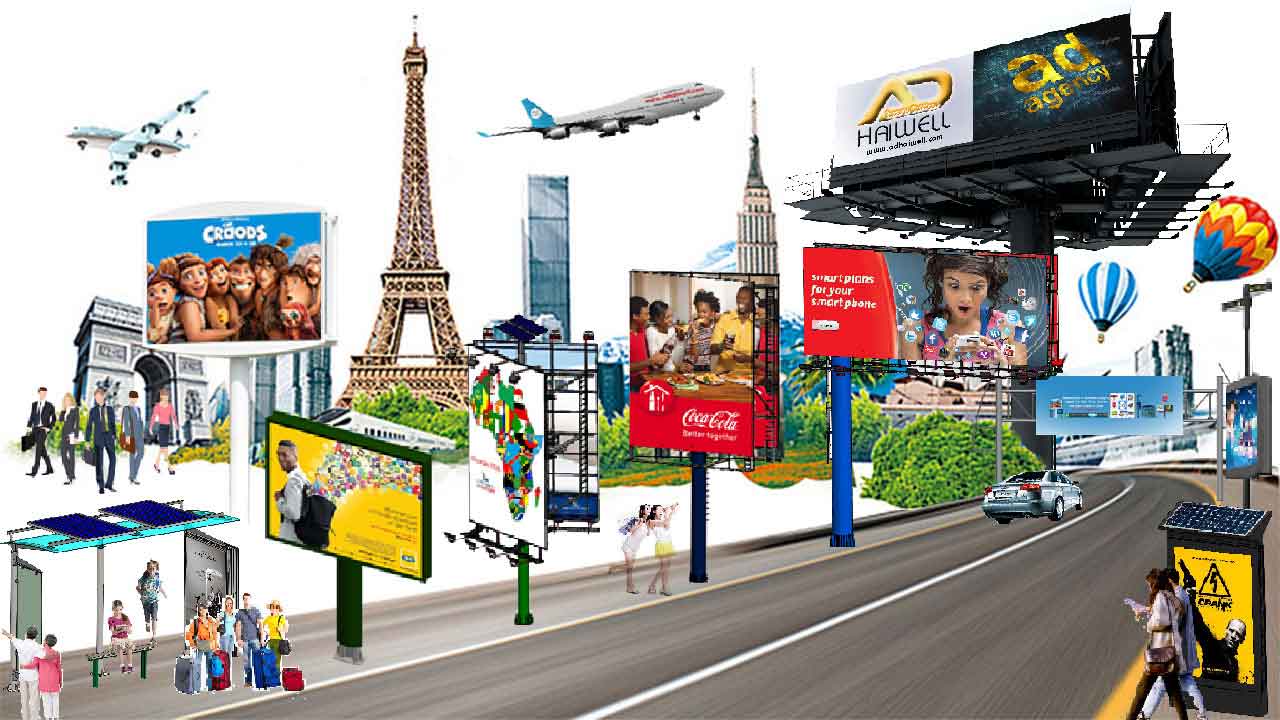 Pre-brand Promotion
In the process of brand promotion, Outdoor Advertising Billboard will let consumers understand, recognize, and recognize the brand in a variety of ways. The process for consumers to familiarize themselves with the brand is like the process of acquaintance between male and female friends, from unfamiliar to familiar.

In the process of consumers' "understanding-cognition-identity" of brands, outdoor advertising runs through the entire process and is a necessary bridge between consumers and brands.
Post-brand Maintenance
The role of the outdoor advertising billboard is not only the pre-brand promotion, it also has a greater role in the later maintenance of the brand, which is very important. Why do well-known brands like Coca-Cola, Huawei, and Procter & Gamble invest a lot of money in advertising every year? The fundamental reason is to maintain the scale of brand activities and competition.

Why do big brands invest millions of marketing budgets in outdoor advertising billboards? Do they know what most SMEs do not know? They know that if people have never heard of you, they will not come to you. They also know that brand advertising can build true consumer relationships, build trust, and propose feasible solutions for specific search engine queries.
The time people spend on the road is not surprising. On average, most of us spend nearly 3/4 of our time outdoors every day. As we spend more and more time away from home, we spend less and less time in front of the TV screen and less time listening to the radio.
Based on this rapidly changing environment, brands and agencies realize that outdoor advertising has always been one of the fastest-growing media formats and has been growing steadily. Showing customers outdoor advertising is better than other forms of marketing, and it is also growing.
TOP 10 REASONS TO ADVERTISE ON A BILLBOARD
1. Everywhere you see!
The people are spending more and more time in cars. It takes an average of more than 15 hours per week. Signs are the only media that drivers and passengers cannot escape. Unlike other forms of media, outdoor advertising cannot be closed, destroyed, or clicked.
2. Influential advertising
Out-of-home advertising (OOH) brands continue to have a great impact on consumers. Has developed into a market of more than 10 billion US dollars, focusing on these huge static poster displays and digital LED displays.
The impact of target signboards, billboards, and wall landscape on busy passages cannot be ignored. This is different from TV and radio advertisements, which can easily change channels.
When advertisers want to create influence, they must go where people are. The place outside their home and where they bought.
3. Cost-effective
Outdoor advertising is the most cost-effective form of advertising available. Many of our signature shows are less than one-thousandth every time I see your news. Compare this with previous media formats.
4. Creativity
Outdoor advertising has been tested in practice and can test creativity to ensure a clear and lasting strategy. This is a "happy place" for creative advertising. The original OOH content leaves a permanent impression on people, leaving a mark on our memory in the ever-changing climate.
Outdoors are big, bold, and colorful. The most important thing is not to forget.
5. Flexibility
Using an outdoor advertising billboard can ensure that the area required for positioning is correctly positioned. Compared with any other form of advertising, outdoor advertising can use geographic location positioning to take advantage of the target audience. Companies can determine where to place advertisements at an appropriate time to attract appropriate participant groups.
This enables companies to quickly understand the impact of signs. Because the data is collected immediately, the company can not only know how many people have been exposed to the advertisement but also how many people have entered a nearby store to buy products.
6. Continue exposure
Outdoor advertising visits potential customers around the clock (24/7). You don't need to wait days or weeks to buy outdoor advertising. Companies can purchase Digital Outdoor in minutes. Reducing LED costs means that there is a lot of digital space available.
This means that the company can buy ads at a specific time. For example, McDonald's air advertisements in Liverpool every week. The ad was based on the weather, the French fries rained, and the snow spread like vanilla ice cream.
7. Interactive news
Companies can also use interactive messages to take advantage of activities. For example, people who pass the Starbucks sign will receive a notification from their mobile phone that their favorite drinks have been halved in the nearest place.
8. New technology
With the advent of digital signage, the outdoor advertising LED billboard has become more valuable. With the development of digitalization, advertisers can flexibly promote short-term and long-term advertising campaigns. Now, advertisers can not only send one message but also publish multiple messages every day...no production costs at all
9. Buy on impulse
I bought a lot of things on the way home from getting off work. According to consumer reports, these purchases were made during the day and on the way home. Therefore, outdoor advertising unipole billboard is very important to influence shopping and purchases on the way home from getting off work. Occupy this market before the competition.
10. High frequency
Continuous 24/7 exposure means that consumers are repeatedly exposed to information.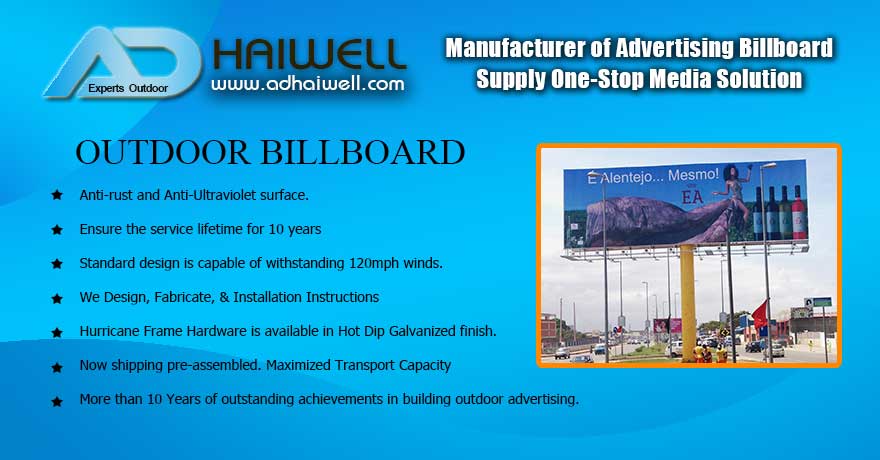 So Who Do You Trust to Build Your Outdoor Advertising Billboard in China Supplier?
Adhaiwell is a leading manufacturer of outdoor advertising & billboards & hoarding signs with over 10 years of experience in the industry from China supplier. We sell many outdoor billboards to oversea. If you are looking for an outdoor advertising display, billboards, or hoarding advertising Supply has the knowledge and expertise to help you make the best decision for your business. Stand out from competitors with our vibrant and attractive outdoor advertising products.How to contact outdoor advertising billboard display experts ?
You can contact outdoor LED Display Billboard Experts at any time.